USA Roof Masters Visits Owens-Corning Plant To Further Knowledge Of Products To Help Customers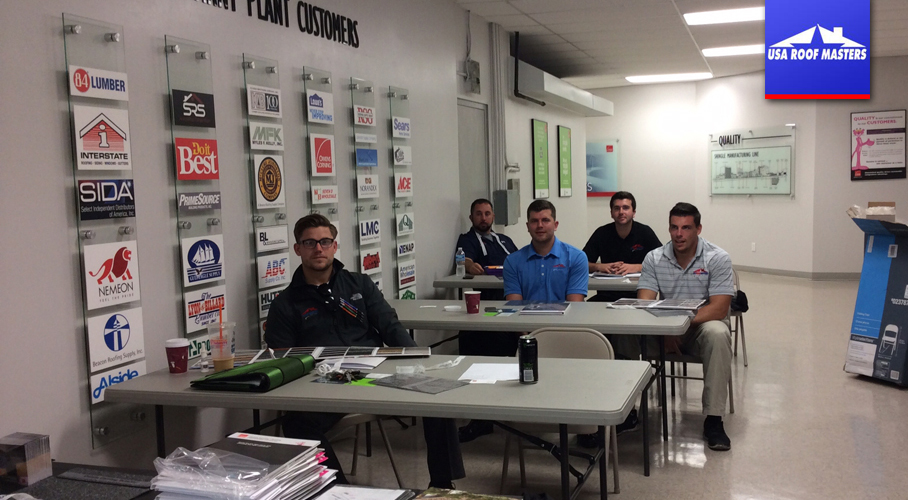 The USA Roof Masters sales team recently took a tour of the Owens-Corning Plant in Northern New Jersey. Due to the advanced technology and copyrights of their industry leading technology we were not able to take any photos during our classroom learning session. However the tour and sales training was extremely helpful to our team and will greatly help us explain all the technology that's packed into the Owens-Corning roofing products to all of our future customers.
We are very proud of being an OWENS-CORNING PREFERRED CONTRACTOR. Being a preferred contractor we are able to offer our customers top quality products, extremely competitive pricing, and the best warranties in the industry. Only a small percentage of Owens-Corning contractors are accepted into the preferred contractor program.
There are numerous requirements and standards that must be met, such as:

An A rating with the Better Business Bureau;
you must have been installing Owens Corning products for at least two years;
licensed and insured; and
Of course, offer quality workmanship. OWENS CORNING sends out a rep to inspect numerous roof installations.
If OWENS-CORNING finds anything they do not like about your installation, you are not accepted into the program. Our OWENS-CORNING regional rep Dan Nolasco says, "We only accept top quality contractors into our preferred contractor program." It is truly something we are proud of!
USA Roof Masters pays for the lifetime warranty on all jobs we install and that is factored into the price on your free estimate. The warranty can even be transferred to a new homeowner if you sell your house! Also, we are able to provide you designer color choices for no extra cost.
Images From Our Trip To OC